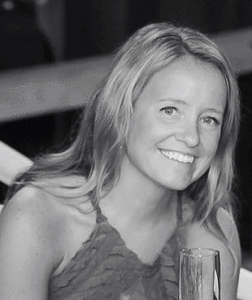 Sarah McNamara of s•mac designs has been designing and selling her handbags on Nantucket since 2008. She taught herself how to sew on a vintage Singer sewing machine when she was 10 years old, making hair scrunchies and accessories for all of her friends and family. As time passed her passion turned to art, which she pursued through college at the University of Vermont and eventually in a career as a graphic designer.
Sewing was put aside until 2007 when she found herself frustrated by working crazy hours at two jobs on the island just to make ends meet. She decided if she was going to have to work two jobs, she wanted to be the boss of one of them and asked for a sewing machine for Christmas. The first prototype was a small envelope clutch made with brightly colored cottons in fun prints that she gifted to her mom, sister, and closest friends. With their positive feedback, s•mac designs debuted at the Daffodil Festival Craft Show in 2008 with three sizes of the envelope clutch.
Since then, Sarah has been experimenting through trial and error with different shapes, styles, and fabrics, eventually moving away from cotton fabric to a more durable canvas material and most recently discovering the beauty of leather. In February of 2016 she traveled to Rogue River, Oregon to attend Alden's School of Leather Trades where she developed her skills and techniques. Today her line has grown to include a range of handmade leather accessories including wallets, clutches, wristlets, and totes. Each design is her own, and Sarah completes every step of the process in her Nantucket home studio.
Handcrafted with love…30 miles out to sea.
Eye on Style article from Yesterday's Island/Today's Nantucket